Babies Born Healthy
The Babies Born Healthy (BBH) program helps women of child bearing age to achieve optimal health before, during and after pregnancy.
Ryan White
The Ryan White Program provides HIV-related services to patients who do not have sufficient health care coverage or financial resources for managing their disease. Services are provided at our Brandywine and Capitol Heights locations.
Title X
Our team provides comprehensive family planning options and other related preventive health services at our Capitol Heights Women's and Children's Center.
Women, Infants, & Children (WIC)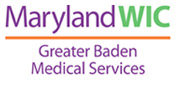 Greater Baden offers nutrition and wellness services through the Women, Infant and Children's Program at our Brandywine, Capitol Heights, and Oxon Hill locations. For more information, please call:

Brandywine: 301-836-9654
Capitol Heights: 301-324-1873
Oxon Hill: 301-686-1171